I am in love with L'Occitane products.  A tad expensive, so they are kind of a luxury at times.  But always worth it. I fell in love with L'Occitane products ever since I tried on their  Almond shower oils. The best shower oils ever! So relaxing and it smells so delicious! However, my Almond shower oils was leaking over all my clothes in my suitcase during my previous flight from Japan. Sob-sob sob sedih gila!
So I went to L'Occitane Komtar JBCC yesterday, to get the Almond shower oils refill version. Was accidentally bought this Serum and The Immortelle Divine Youth Oil . After read the review, I wanted to try this one so bad.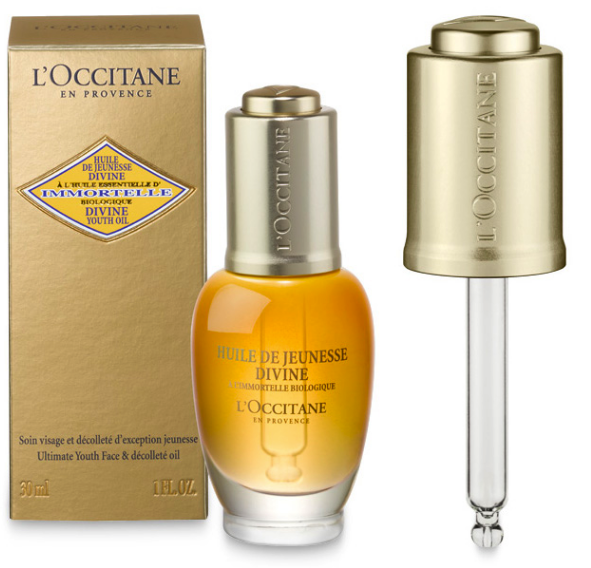 The Immortelle Divine Youth Oil, made with 7 plant oils, has a light, silky texture with a non oily finish, that melts into the skin beautifully. I warm a few drops in my hand and massage it into my cleansed skin. This allow it to penetrate the skin faster, deeper and provide my skin with extra hydration and greater luminosity. And after my first try, I notice a glow and softer skin! Serious tak tipu. And I like the smell, it smell so classy!!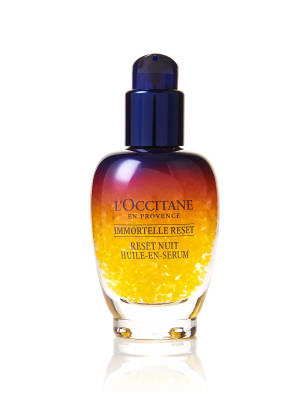 I noticed L'Occitane (Malaysia) have been heavily promoting this Immortelle Reset Oil in Serum product. I see quite a few sponsored posts from them on my Facebook and instagram about this product (and the Divine Oil too). Truth be told, I'm very easily influenced by advertising. -_-
To be honest, my life right now is full of stress and sleepless nights. I am so busy working around-the-clock plus minus with my personal problems hitting me, and this is transpiring in my skin, I'm getting a few breakouts and my skin is looking dull. I do some research and by the review they said this serum could actually reset this and erase factors like stress and fatigue, which affect our skin. I love this whole concept of resetting skin especially night. I desperately want this and can't wait to see the result! After one night of using this product, I can also honestly say that I felt that my skin looked refreshed and rested. Feel like my skin is left with a satin smooth finish and immediately hydrated.
They said, 100% perfect result can be seen in one week time . So we'll see next!
Overall amount that I purchased yesterday. It's pricey but so worth it to treat yourself with the best. Also they give a lots of free gifts and some free samples at the end! Oh I like free thingy hehe.
Oh yea, do you notice that from my early post, I mentioned my purpose to visit L'Occitane was for restock my refill Almond shower oil? No I didn't buy it. I forgot. kekekekekeke.